8ième symposium annuel du NTHC
8ième symposium annuel du NTHC
2018-03-29T14:30:00+02:00
2018-03-29T19:00:00+02:00
When

Mar 29, 2018

from 02:30 PM to 07:00 PM

(Europe/Brussels / UTC200)

Where

Domaine de Béronsart, Gesves

Add event to calendar

iCal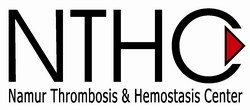 Le Namur Thrombosis and Hemostasis Center a le plaisir de vous inviter à son 8ième symposium annuel le jeudi 29 mars 2018 au Domaine de Béronsart à Gesves.
Nous aurons le grand privilège d'accueillir à cette occasion
le Professeur Philippe Hainaut (Université catholique de Louvain, Cliniques Universitaires Saint-Luc UCL Bruxelles, Service de médecine interne)
le Professeur Sophie Testa (Hemostasis and Thrombosis Center, AO Istituti Ospitalieri di Cremona, Cremona, Italie)
le Docteur Isabelle Gouin-Thibault  (CHU Rennes, France)
le Professeur Andreas Greinacher (Institute of Immunology and Transfusion Medicine, Division Transfusion Medicine, University Medicine Greifswald, Greifswald, Germany). 
le Professeur Brigitte Ickx (Université Libre de Bruxelles, Hospital Erasme, Département d'Anesthésie-Réanimation, Bruxelles)
le Professeur Marc Jacquemin (Center for Molecular and Vascular Biology, Hemostasis Laboratory, KU Leuven) 
Une demande d'accréditation est en cours comme chaque année.